A team of talented veterinary professionals
Our reproductive center team is lead by Dr. Katie Hornberger, a Diplomate of the American College of Theriogenology (DACT).
Veterinary Theriogenology is the specialty dedicated to all aspects of animal reproductive medicine and surgery. The focus covers reproduction, obstetrics and neonatology, as well as the physiology and pathology of male and female reproductive systems.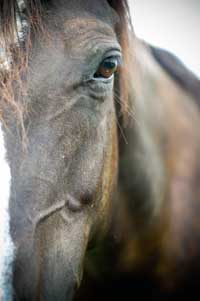 Meet our veterinary reproduction team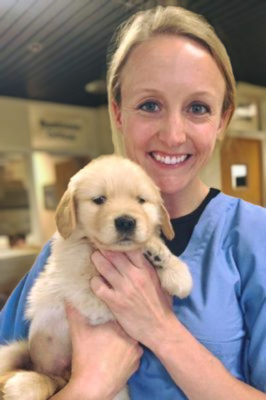 Katie Hornberger, DVM, DACT
Equine, Canine & Feline Reproduction Veterinarian
Janssen Associate Veterinarian since 2017
Purdue University Doctor of Veterinary Medicine; Purdue University BS Animal Science; Diplomate American College of Theriogenology
Clinical Interests: Small Animal & Equine Reproduction
Dr Katie Hornberger grew up in Terre Haute, Indiana. Her strong love for animals started when she was a little girl. At 9 years old, her parents won a horse riding lesson. Since that day, Katie fell hard for horses. She continued western riding lessons and soon knew she would be a veterinarian.
Dr. Katie graduated with a Bachelor of Sciences in Animal Science from Purdue University in 2009 and continued to complete her Doctorate of Veterinary Medicine from Purdue University in 2013. Upon graduation, Dr. Katie did a 1 year equine and small animal internship near Cincinnati, Ohio. Following her internship, she pursued a 3 year Theriogenology residency at Oklahoma State University, where she addressed the reproductive needs of all species.
During her residency, Dr. Katie had the opportunity to acquire advanced reproductive skills including equine embryo transfer, oocyte aspiration, semen processing and freezing, high risk pregnancy management, and various other techniques. In addition, she had the opportunity to acquire skills in canine breeding management, trans-cervical artificial insemination, semen processing and freezing, medical pyometra management, c-section planning, and other various skills.
Dr. Katie enjoys all aspects of veterinary medicine but has a special interest in both equine and small animal reproduction and neonatal care.
In her free time, Katie enjoys spending time with her husband Jake and children, Hannah and Weston. She also enjoys riding her mare with a goal to show her in ARHA.
Amanda Burrows, BS, MS
Reproduction Veterinary Assistant
University of Missouri-Columbia, MS Animal Science, BS Animal Science
Amanda attended the University of Missouri-Columbia where she earned Bachelor and Master of Science degrees in Animal Science, as well as a Graduate Minor in College Teaching. During her time at MU, she focused much of her attention on assisting in the management of the MU Equine Teaching Facility which breeds, raises, and sells American Quarter Horses. This piqued her interest in reproduction and allowed her to gain skills in stallion and mare reproductive management as well as foaling and neonatal care. Amanda was also an assistant instructor of MU's undergraduate equine courses.
While pursuing her education, Amanda also had the opportunity to work in undergraduate and graduate research with various livestock species including cattle, swine, and horses. Finally, she had the opportunity to complete an internship researching the management techniques of wild horses in western states. Since working at JVC, Amanda has expanded both her equine and canine reproduction knowledge.
In her free time, she enjoys doing outdoor activities such as hiking and gardening as well as spending time with her husband and family, which includes two horses, two dogs, two cats, and a bird.